Submitted Wednesday, June 6, 2012 - 10:02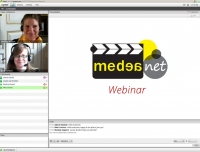 During this one hour free webinar you will get an insight into what it's like to integrate games into your teaching practice. Game-based learning offers a variety of opportunities to teachers to stimulate pupils' engagement and to strengthen their collaborative learning skills. This webinar is aimed at teachers, educators and school directors interested in getting to know more about the different ways in which they can integrate digital games into learning activities. The webinar takes place on Monday, 25 June 2012, from 4 to 5pm CET and you can register for free through this online form.
This webinar is part of a 12-part series of public webinars on topics related to media use in education and training, organised by European funded project MEDEAnet. This project is being managed by ATiT and aims to promote media-based learning to organisations and practitioners through local training and networking events, online resources and knowledge sharing.