The first course was held in Leuven from 14 to 19 February 2011, in the Leuven Institute for Ireland in Europe. 12 participants took part from 9 different European countries.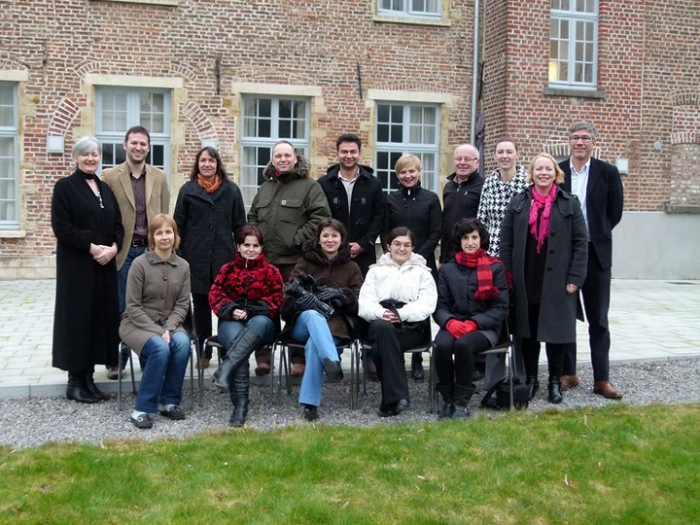 After their introduction to each other, the participants discovered the subject of using video for teaching purposes through presentations, discussions and examples of different types of moving images and video: animation, stop motion, chroma key, live video, interviews, drama, observation. The participants also found out about existing video repositories and the use of archival films and how we can use them in an educational context.
After introducing the subject of creating user-generated video for learning, the course participants were divided into 3 small teams in which they started working on the practical side of the course: creating educational video clips for learning. The participants go through the whole creative process together, with help from the instructors.
Skills and knowledge the participants gained include:
brainstorming, evaluation and selection, scenario and script writing, planning, problem solving,
shooting a video using light and sound, applying camera and microphone techniques,
editing the recorded video to a 3-minute videoclip
publishing the video online
"
This was an excellent process, everyone brought different ideas, experiences and knowledge. I learned so much from those in the group.
(Participant - February 2011 course)
"
Each team presented their work to an invited audience with reception on Friday 18th February 2011 which included Renilde Reynders from EPOS vzw, the National Agency responsible for the implementation of the European Life Long Learning Programme in Flanders (Belgium) and Mohamed Ridouani, representing the city hall of Leuven and one of his responsibilities as alderman: education.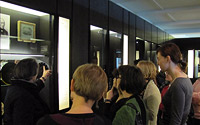 During this week, the course participants visited AVNet, the audiovisual centre of K.U.Leuven, where they received a guided tour through the professional recording, editing and videoconferencing studios. Furthermore, colleagues from AVNet presented what AVNet means for the univeristy including their support of recording weblectures as well as making them available online and sharing them among the educational community in Belgium. The participants were very pleased to also visit the Film Archive and Film Museum in Brussels called CINEMATEK, where they attended a screening of archival films as tools for education. Through a guided tour through the museum, participants were intrigued by all the different steps and instruments leading up to the "invention" of analog films.
"
Excellent work, very enriching experience; really makes a difference to me and my work. Carefully planned and great methods for encouraging good group dynamic.
(Participant - February 2011 course)
"
The course was concluded with an evaluation among participants and after a week full of learning, getting to know each other, exchanging experiences and laughter, the group is still able to connect through an online group that was created on a social network.