Submitted Thursday, September 4, 2014 - 15:29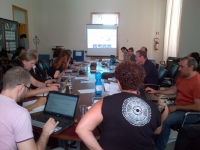 The EMMA consortium, working on the deployment of EMMA, has gathered at the University of Naples Federico II, to discuss the last design issues of the platform before preparing the launch of the first 10 MOOCs, of which 5 will be open for subscription from the end of September onwards, and starting by mid-October. EMMA, the European Multilingual MOOC Aggregator, is a large higher education project supported by the European Commission.
The development team at UNINA has been working very hard and the result is now an impressive aggregator that promises not only to meet the requirements of different pedagogical design methods but also to accommodate various MOOC approaches such as cMOOCs or xMOOCs from multiple European Higher education Institutions, with an innovative multilingual component. Check out the EMMA website for the start date of the registrations.
Submitted Wednesday, September 3, 2014 - 09:44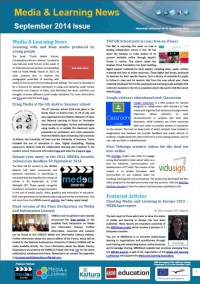 Highlights of this month include an article by Tânia Vargas about charting Media and Learning in Europe 2013 in the MEDEAnet report, an article by Ilkka Kukkonen about studying with recorded lectures and an article about inspiring master students that improve their field research using iPads and a 4G network by Sylvia Moes. Also read and download a book by Media Visions about learning with and from media produced by young people, check out the Media & Learning agenda, take part of the MEDEA Awards by submitting an educational media project before 30 September, read the news about the launch of a new contest by Inspiring Science Education (ISE) and much more.
Read the newsletter here