Submitted Wednesday, February 10, 2016 - 15:10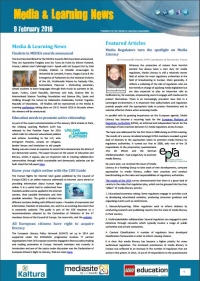 Highlights in this month's newsletter include:
- Register for Media & Learning Conference 10-11 March;
- Finalists in MEDEA awards announced
- Media Regulators turn the spotlight on Media Literacy
By Emmanuelle Machet, EPRA Coordinator of Secretariat, France;
- The MARCH Project: making science real in schools By Sofia Papadimitriou, Head of the Educational Radio Television, Greece;
- Learning technologies in the classroom: how students can improve schools
By Diana Bannister, Development Director for Learning Technologies, UK;
- Upcoming webinar: Video in blended learning
plus plenty of other news, notifications and announcements related to the use of media in education and training.
You can see the newsletter here
Submitted Thursday, February 4, 2016 - 08:22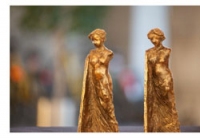 The 8 entries shortlisted for the MEDEA Awards 2016 have just been announced, they are Apprendre l'anglais avec les Tutos de Huito by Stéven Huitorel, France, Labhair Linn! Cabhraigh Linn! - Speak with Us! Support Us! by Edel Crosbie, Ireland, La Moselle ensauvagée by Université de Lorraine, France, Magna Carta & the Emergence of Parliament by the National Archives of the UK, Multimedia Wismo by Nadasdy Film, Switzerland, PopuLLar - Motivating secondary school students to learn languages through their music by partners in UK, Spain, Turkey, Czech Republic, Germany and Italy, Science Bits by International Science Teaching Foundation and Science Bits, Spain and Walking through the nature by Aleksandra Andonoska, Former Yugoslav Republic of Macedonia.
Join us for Media & Learning 2016 for a feast of discussions, demonstrations, networking opportunities and inspiring presentations on media education and media literacy, check out our programme here.