Submitted Friday, December 12, 2014 - 11:25
Highlights in this month's newsletter include an article by Stephen Howell, from Microsoft Ireland on Programming, Software Development, Computational Thinking or Coding, an article by Mathy Vanbuel from ATiT on iPro: finding the competence and skills gaps in the education and training of digital media professionals, an article by Maja Pivec from University of Applied Sciences FH JOANNEUM on Exploring Games for Learning. You can also find news on: Winners announced for the MEDEA Awards 2014, Second AGM of Media & Learning Association, The growth of E-Learning popularity amongst European Universities and a webinar with winners of MEDEA Awards 2014.
Read the newsletter here.
Submitted Tuesday, December 9, 2014 - 10:39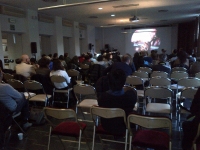 During the ESHRE Campus on 4 to 6 December 2014 at the Chateau de Colonster, Université de Liège, ATiT organised the interactive live transmissions from the Centre Regional Hospitaliere La Citadelle in Liège and the UZ Gasthuisberg in Leuven, where the surgeons were operating. The audience in the auditorium in Liège could ask their questions directly to the operating surgeons. The recordings of the ESHRE Campus will again later be added to the video portal that is being developed in collaboration with the ESHRE Secretariat.