Submitted Thursday, October 1, 2009 - 09:33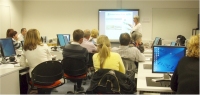 Teachers from 8 Primary and 2 Secondary schools in Co. Clare have been taking part this week in workshops in Clare Education Centre, Ennis and St. Joseph's School, Tulla led by ATiT on how to use the latest Web 2.0 applications like Blogs and Skype and other open source tools for teaching and learning. Some of them will also be managing their own web sites using the latest developments in content management tools which allow non-specialist users to generate and publish their own content online. This means that school web sites can be kept up to date with the latest school news including sports results, project work and other news from the school.
These workshops are part of the SoRuraLL project, a 2 year European Commission sponsored project which is investigating how schools and other educational bodies in rural parts of Europe can use the latest developments in internet technologies to break down barriers and access educational opportunities.